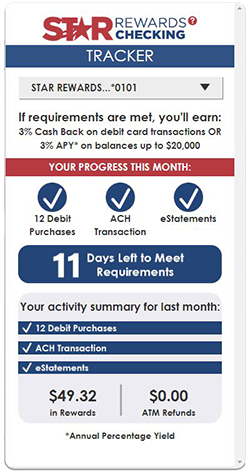 Do you find yourself manually counting your monthly debit card purchases to ensure you've made at least 12? Or are you curious about how much you've earned in rewards from the previous month? If so, you'll love our new Star Rewards Tracker, now available within TCCU Online and the app!
The Star Rewards Tracker, pictured to the right, was designed to help you easily view your progress toward earning Star Rewards each month. You can find the tracker in TCCU Online to the right of your account listing under the Credit Score widget. In the mobile app, you can find it by clicking on the More and then selecting Star Rewards Tracker in the menu.
The tracker will show how many days are left in the month and your progress on the following Star Rewards requirements:
How many debit card purchases you have made so far. Reminder, you need to make 12!

Whether or not you are signed up for eStatements.

Whether or not an ACH has cleared your Star Rewards Checking account.
Once you have completed each requirement, a blue check mark will appear.
---
What is Star Rewards Checking? This free account gets you up to $25 in ATM fee refunds per month* and:
3% Cash Back on debit card purchases, up to $7 per month OR
3% APY** on checking account balances for the first $20,000
---
In addition, the tracker will also feature your earnings, debit card purchases and ACH transitions from the previous month so you can see how you did.
The tracker is updated every time you visit, but pending debit card transactions will not be reflected in your total debit purchases until the final payment comes out of your account. View more information on debit card pre-authorizations. eStatement sign-ups are updated each business day.
Questions on our Star Rewards Tracker? Give us a call at 800-872-6358.
Need to sign up for TCCU Online to access the tracker? Fill out a short registration form.
Want to open a Star Rewards checking account or add Star Rewards to your existing checking account?. See more about Star Rewards Checking.
---